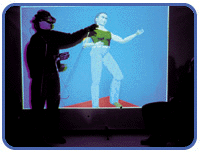 Head of Section (HVRC):
Michael Louka
Phone: +47 69 21 22 54
E-mail: michael.louka@hrp.no
Head of Division (VISIT):
Terje Johnsen
Phone: +47 69 21 22 47
E-mail: terje.johnsen@hrp.no
Halden VR centre is organised as a section under the Visual Interface Technologies (VISIT) division at the Norwegian Institute for Energy Technology (IFE).

The three main components of the VR centre are bilateral projects, OECD Halden Reactor Project work, and academic cooperation with universities in Norway and aborad.

The VR centre aims to provide expertise and an advanced facility for the development and presentation of solutions to industrial challenges based on VR technology. One of the main objectives of the VR centre is to provide a place where industrial engineers, researchers and students can meet and discuss ideas. The promotion of technology transfer and pilot studies is therefore seen as very important to the centre's success.

IFE's VR centre focuses on R&D that complements and builds on other research at the institute, in particular within the areas of control room engineering, simulation & training, decommissioning, and visualisation of advanced engineering designs.

A cooperation with Østfold University College in Halden provides IT students at the college with training and access to advanced facilities for project work. Student projects provide an opportunity to investigate new areas and applications of VR technology, and provide students with valuable experience in real-time visualisation.

The primary areas of focus are:
user-centered design and Control room engineering
Decommissioning and outage planning
Operations and maintenance training
Halden VR Centre (through IFE) is an academic member of the Web 3D Consortium.