[ Site: Halden VR Centre ] [ Contents: About | Projects | Examples | HRP only | Careers ]
Proceedings of the 2005 VR Workshop
VR in the Future Industrial Workplace:
Working Together - Regardless of Distance
2-3 March 2005
Introduction
In September 1998 and November 2001, the Halden Project organised successful workshops [1][2] focusing on the application of virtual reality technology to topics of interest to the process industry. The third Halden workshop on virtual reality applications took place 2nd - 3rd March, 2005 in Halden, Norway.
The main topics of the 2005 VR workshop were:
Design
Operations and Maintenance
Training
Engineering VR Systems
The workshop was divided into sessions reflecting the main topics of the workshop. The sessions were organised as a combination of presentations, demonstrations, and discussions.



Proceedings
Chairman: Pascal Laureillard , EDF
Co-Chair/Secretary: Michael Louka, IFE/HRP

Organising committee: Terje Johnsen, Michael Louka, Jannicke Neeb, Espen Nystad, Angelia Sebok.
Wednesday 2nd March 2005
Welcome
Terje Johnsen, IFE/HRP

Chairman's Introduction
Pascal Laureillard, EDF

Session I: Design

Remote Operation and Virtual Reality Centre to be built in Tampere, Finland
Arto Timperi, VTT

Overview and demonstration of IFE's collaborative design tools: HVRC CREATE
Morten Gustavsen and Michael Louka, IFE

The democratisation of design processes
Søren Sørensen, AHO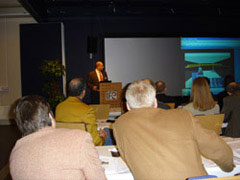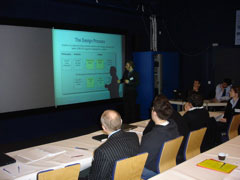 Session II: Operations and Maintenance

The Extended Teamwork 2004 Experiment
Stine Strand, HRP/IFE

Factors Affecting the Extension and Quality of Teamwork in New Operational Design Concepts
Ann Britt Skjerve, HRP/IFE

Studying Collaboration in a Virtual Environment
Espen Nystad, HRP/IFE
Extended Teamwork Simulator Demonstration
Christer Nihlwing, HRP/IFE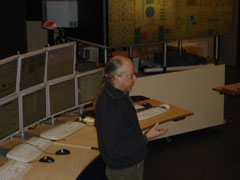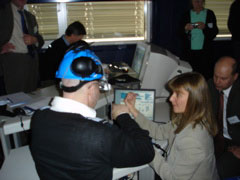 Development of a tracking method for augmented reality applied to nuclear plant maintenance work
Hiroshi Shimoda, Hirotake Ishii, Masayuki Maeshima, Toshinori Nakai, Zhiqiang Bian & Hidekazu Yoshikawa, Kyoto University

Virtual Reality in outage units at EDF
Pascal Laureillard and Bernard Nouailhas, EDF

Overview and demonstration of IFE's outage planning tool: HVRC VRdose
Grete Rindahl, Geir Meyer, Michael Louka, and Terje Johnsen, IFE

Global 3D Models with Local Content
Gunnar Misund, Morten Granlund, Herman Kolås, Mats Lindh, Østfold University College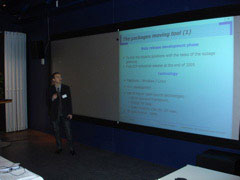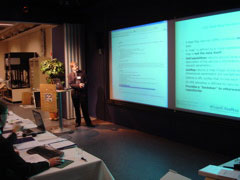 Session III: Training
The LNPP Refuelling Machine Training Simulator
Niels-Kristian F. Mark, IFE

Evening Session

"1700s dinner" in Fredriksten Fortress followed by a private concert with the Halden band El Corazon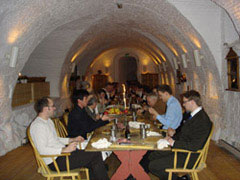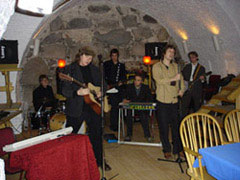 Thursday 3rd March 2005
Session IV: VR and AR Technology and Applications

Usage of VR Methodology in NRI Rez
Jindrich Machek, Jirˇí Tschiesche, Václav Micˇkal, NRI Rez

Extending X3D to support collaborative scientific visualisation
David Lam, EDF/IFE

Overview of the CollabVE Project
Michael N. Louka, HRP/IFE

Virtual control-rooms assisted by 3D-sound
Håvard Sjøvoll, Statoil/NTNU

Use of Augmented Reality in geosimulators
Christian Aune Thomassen, Statoil/NTNU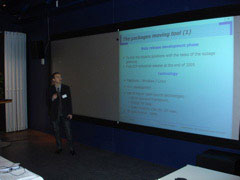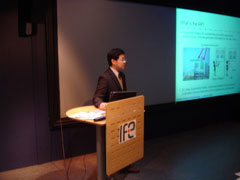 Session V: Group Work

Group Discussions:

Group Presentations:

Chairman's Summary and Conclusions

Chairman's summary and conclusions
Pascal Laureillard, EDF

References:
[1] Louka, M. N. (1998). Session summaries for Workshop Meeting on Virtual Reality Applications in Process Industry Maintenance
Training, Outage Planning, Control Room Retrofits and Design, 17th-18th September 1998 (HWR-571). Halden, Norway: OECD Halden Reactor Project.
[2] Louka, M. N. and Sebok, A. (2002) The Second Halden Reactor Project Workshop on Virtual Reality: Session Summaries from the November 2001 Meeting (HWR711). Halden, Norway: OECD Halden Reactor Project.
---
Got a question about these web pages? Send e-mail to VR-INFO@hrp.no.
©2004-2005 Institute for Energy Technology